Using a Business shared calendar for your organization
Whether you are an employee or manager within a large group, a SME or a self- employed business in the industry  construction, crafts or transport and logistics sector , we are all impacted by the evolution of management tools and the rise of collaborative work and therefore, by the business shared calendar.
Also, more and more organizations are embarking on projects to digitize their activity. This notably involves the use of a shared corporate agenda like the one we are offering.
Do you know the value of online agendas and schedules for companies?
If you are one of the professionals who is not yet completely convinced by shared calendars, try our shared calendar tool for businesses. We offer a free 15-day test!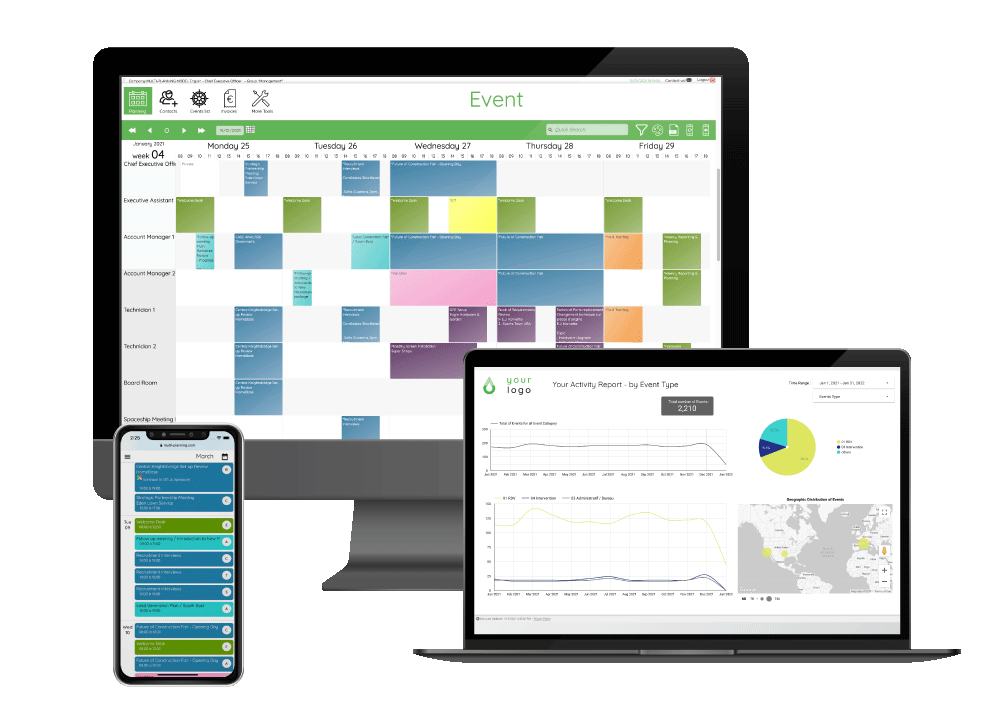 The rise of collaboration
In recent years, the trend has been towards collaborative work . With this in mind, more and more companies are choosing to invest in digital services that promote "collaboration" between teams. Gone are the days when everyone worked in their own corner, now it's time to bring together skills and resources!
In addition, project management methods are constantly evolving for ever more efficiency , which has given birth in particular to the very popular agile method. This method has revolutionized the organization of team tasks , known as projects, by dividing them into several phases.
In view of this more than favorable managerial context, the establishment of an online corporate agenda therefore appears essential in order to ensure consistent and efficient monitoring of both projects and teams.
The 8 advantages of a business shared calendar
Online planning makes it possible to centralize all the information on the availability of a company's teams  . Earnings ? No more constant calls to find out about everyone's availability. Managers can only be delighted!
Imagine the time saving in the context of a construction site for example. The shared calendar will allow you to manage and coordinate with just a few clicks all the building trades: masons, roofers, carpenters, electricians, plumbers, heating engineers, etc.
2 / Optimize productivity
Thanks to the collaborative agenda, a manager will save time in the daily management of schedules. Precious time, which he can put to good use in carrying out priority tasks , directly related to the activity of the company.
Take the case of a sales manager. If his company has set up an online planning system, he will no longer have to deal with the planning management of his commercial fleet for the planning of meetings with customers. He will then be able to devote more time to winning new prospects, building customer loyalty, or even implementing a new business strategy.
3 / Have a global vision of the activity
An online planning allows to have a global vision on the whole of the activity of a company. A real "plus" when you are a business manager and want to know in advance the peaks of activity and the slack periods to manage your activity as well as possible!
For example, if you are a company operating in the vocational training sector , using a shared calendar will allow you to anticipate your HR needs in terms of trainers, manage training room schedules or even organize the various training sessions. 'education.
4 / Improve communication
Do you want to streamline communication between your company's departments? Thanks to the online planning, you can provide real-time access to information related to the activity of the various departments to all of your employees. By limiting the time spent searching for information, you not only improve productivity, but also the sharing of essential elements .
For example, a consulting agency can easily communicate on deadlines with all of its consultants before a steering committee for an assignment with a client.
A shared corporate calendar makes it possible to limit organizational dysfunctions such as double appointments on the same time slot, for example.
A medical secretary will see her appointment management work greatly facilitated thanks to the online planning. A more than indispensable tool when working in a practice grouping together several practitioners.
6 / Reduce the e-mail inflow
Who has never had the impression of being drowned in a wave of emails? Generally, a large part of these emails concern appointment scheduling. Using an online calendar makes it easier to reposition deadlines , cancel meetings and let your contacts know .
If the tertiary professions have perfectly understood how to integrate email into their daily life for making appointments. For some trades in the field, this is not easy. Imagine the time saving for the manager of a farm who will be able to access his company's shared agenda directly from his smartphone.
Like most new management tools , it is possible to choose who has access to what in a diary or collaborative planning according to the hierarchical position and functions of an employee.
The data of an online planning within an industrial company are confidential, even more so when it comes to production . The secure by restricting their access to a defined group of people is paramount.
The accessibility of the data contained in a mobile application such as an online diary meets the professional mobility needs of today's business world.
Between two cases, a lawyer will be able to consult his agenda in real time and know the planning updates of the colleagues with whom he works.
–
You will no doubt have understood it, whatever the nature of your activity, the implementation of an online business agenda and planning offers many advantages .
Whether it is a project to be managed within a web agency, an association, a beauty institute, a law firm and accountants, it has become essential to be able to manage the scheduling of tasks and appointments in real time to gain responsiveness and gain a real competitive advantage .
In other words, it is an investment that could quickly become a real source of added value for professionals who will know how to integrate it into their daily management .